Nicole Pellizzari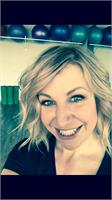 Nicole grew up in a small town in Saskatchewan and has been active from the start, enjoying as many activities as were available to her. She enjoyed several school sports, dance, gymnastics, music, and drama. As an adult she joined karate, achieving a second degree black belt. Over the years she has also enjoyed the stretching elements of yoga and the calming environment it evokes.
In an effort to reduce back issues due to scoliosis and other injuries, Nicole tried a few private Pilates classes. Soon after this introduction to Pilates she was hooked! She noticed an increase of strength, balance, flexibility, and a greater range of movement in her everyday life.
The positive effects on posture have also helped her with her career as a hairstylist, minimizing the fatigue of constant standing with arms raised.
After 11 years of taking Pilates classes and being passionate about health and wellness, Nicole decided it was time to share her knowledge and help others in their journeys.
She took her instructor course on Mat Pilates under Tracy Stafford (PMA recognized), owner of Integration Pilates Studio, in the winter of 2016. Then in winter of 2018 she completed the Equipment Pilates instruction course. Nicole is looking forward to this exciting career of helping others move and feel better.
Nicole Pellizzari instructs the following:
Level 1 classes are appropriate for those new to Pilates or Yoga, and who may have imbalances in the body that are best suited to working methodically from the foundation upwards. Start a brand new way of being in your body! Refer to our website or contact the studio for more information.




Pilates Equipment classes use the Universal Reformer, the Cadillac, and the Chair. This level is appropriate for those who have never used the equipment before and/or who have injuries/conditions that they need to be mindful of and move at a pace that allows the body to learn a new way of moving. Please refer to our website or contact the studio for more information.