Maggie Miron - Apprentice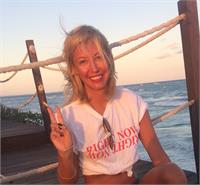 Maggie was introduced to Pilates in Bali and Sydney 10 years ago and the love affair has continued ever since! She is motivated by breaking boundaries, the feeling of pushing herself physically and mentally is extremely rewarding. Watching others push through and find new edges inspires her. Maggie wants to support, encourage, and witness the magic of hard work and perseverance.
Maggie Miron - Apprentice is currently not instructing any classes.