Darci Macht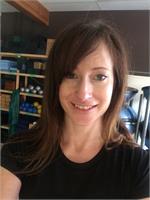 From a very young age Darci was interested in Pilates from reading about the benefits for dancers. She began taking Pilates after developing pain in her low back from pregnancy. Darci found that Pilates re-aligned her body and helps her stay strong as a busy mom of 5. Darci has a dance background with most experience in ballet, including Vaganova, RAD, and Cecchetti methods; and is currently teaching ballet classes for rhythmic gymnasts and stretch classes for synchronized swimmers. She is very passionate about Pilates and is so excited to finally become a Pilates instructor.
Darci Macht instructs the following:
Level 3 is meant to challenge you in every way - building strength, flexibility, balance, coordination, and endurance, while still focusing from the inside out. This level is appropriate for those with a solid foundation of Pilates and who want to be challenged.




Pilates Equipment classes use the Universal Reformer, the Cadillac, and the Chair. This level is meant to be more of a physical challenge, while still being accessible to most people. The class will flow more than lower levels, challenging endurance, coordination, and core connection. Previous experience on the equipment is a must.




Equipment classes taught by our new apprentices




This free Level 1 demo Pilates Equipment class will use the Universal Reformer and the Tower. This class is meant for those who have never used the equipment before and/or who have injuries/conditions that they need to be mindful of and move at a pace that allows the body to learn a new way of moving. In this free class you will get a sense of what to expect if you enrol in the fall session of classes.




Pilates Equipment classes use the Universal Reformer, the Cadillac, and the Chair.This level is appropriate for those who have some experience on the equipment, but who are still developing their core connections. Also for those who have injuries that need to be managed in a controlled way.