Take your love of Pilates to the next level.....



Integration Pilates
Comprehensive

(Mat & Equipment)
Teacher Training & Certification Course
November 2, 2017 – April 22, 2018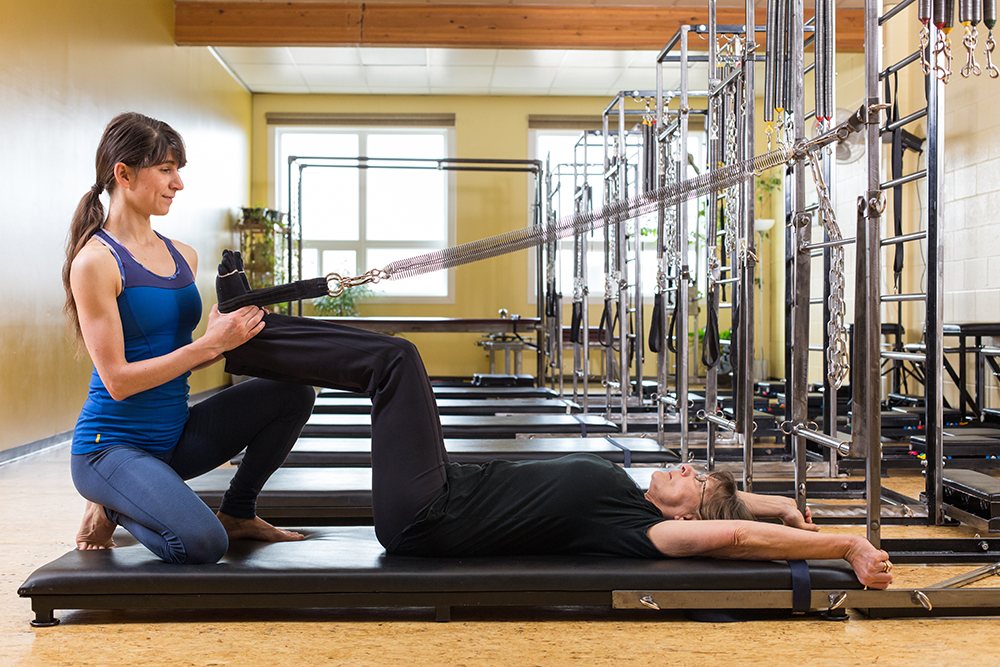 Course work runs from November 2, 2017– April 22, 2018
Additional time is needed for items 3-8
which are to be coordinated with the studio.
Cost: $4000 +gst – $800 deposit required by October 1 –
Pay in full by Oct 1: $3500 +gst!
The remainder must be paid before November 15, 2017

*Equipment certification only (for those already certified in Matwork): $3000 +gst ($2500 if paid by Oct 1)
*Anatomy Refresher! 4 Weekends in November: $200 per weekend or $750 for all 4 (+gst)


Full Certification Course is 450 hours

1. Anatomy, injury prevention & rehabilitation, postural assessment
All 4 weekends in November: 4,5 (Spine) 11,12 (lower body), 18,19 (upper body), 25,26 (Injuries and Postural Assessment)
Each weekend will include a quiz (worth 5% each) to be handed in on the following weekend.
The last day will have time for an open book exam worth 15%.

2. Pilates Theory – Learning the material
November 2 – April 22 – (Breaks: Dec 22 – Jan 6 and March 27 – April 1)
140 hours


Thursdays 6:15 – 9:15pm Starting November 2 – April 19 (Matwork time)(Not included in Equipment only certification)
Sundays 1- 5pm Starting Dec 2 – April 22 (Equipment time)
This will be broken down into the following components:
Level 1: Mat, Reformer, Cadillac, Chair
November 2 – Jan 21 – With written and practical tests on the final day Jan 21 (worth 20%)
Level 2: Mat, Reformer, Cadillac, Chair
Jan 25 – March 18 – with written and practical tests on final day March 18
Level 3: Mat, Reformer, Cadillac, Chair
March 22 –April 22 – With written and practical tests on the final day April 22
3. Case Study
15 privates with the same person. Initial assessment, program design and final analysis to be included.
Plan to start this around March 1. You have until August 30, 2018 to complete.
Counted as 30 hours (15 hours prep time). (20%)

4. Apprenticeship 60 hours.
There are many options for this: assistant teaching, full teaching, off-site teaching.
We can discuss what is best and most appropriate for each person.
This may start for you in Spring Session (April – June) or Summer Session (July & August).
You will be paid apprenticeship rates for your teaching time. Exact wage TBA.
You can also teach at another studio – they would have to work out a pay scale for you.
5. Practical Experience
– ie. workout time.
I will provide forms for you to fill out a log of your hours.
No classes will be counted before September 1, 2017, and they must be completed by Aug 30, 2018.

**The cost of these classes is included in the overall course fees.
50 equipment classes – I suggest you take all levels to get a sense of how classes progress
50 open workout sessions (working out on your own, on your own time)
50 mat classes – all levels (Not included in Equipment only certification)

6. 10 hours Office work:
Get a sense of the inner workings of a Pilates studio from the business end of things, from brand recognition to scheduling.
Learn how to market and educate potential clients, meet the needs of current clients, and create a positive Pilates environment in every way.
You will be paid for this. Wage and schedule TBA.
7. Privates
– 20 privates to friends and family (they do not pay).
This could take the form of a small class as well. Plan to start this after the Level 1 section (early 2018).
Hand in a log of the hours and notes. This is a great time to integrate everything that you are learning.
Certification, recognized by the PMA (Pilates Method Alliance – the major governing body of Pilates worldwide)
will be granted upon the completion of all components.

Meet your course teacher: Tracy Stafford
Tracy was introduced to pilates while taking her BFA in Dance at York University in 1991. After suffering a leg break from a car accident in 1995, she began serious study in Pilates for rehabilitation. She was able to return to dancing professionally, but soon realized that Pilates was more than a personal practice for her. She originally trained and certified under Vivian Nickels at Body Matrix in Toronto in 1997 and has been teaching ever since. She has continued her training under various Pilates master teachers from around the world, and is particularly interested in the evolution of Pilates as a tool to to address today's changing bodies & souls, and to rebalance and reconnect EVERY body, regardless of injury, chronic condition, postural imbalance, or fitness level. She continues to study many forms of body work and movement, including Traditional Thai Massage, which she practices out of the studio. She also has certifications in Vinyasa Yoga from YogaWorks and Ashtanga Yoga from David Swensen. Other certifications include Therapeutic Ball release, Gyrotonics, Craniosacral Therapy, Kettlebells, Bosu, and Pfilates (Pilates for Pelvic Floor). She is certified by the Pilates Method Alliance (PMA), with whom she does regular continuing education. Her Workshop Series is an opportunity to inform and give specialized rehabilitative and injury prevention exercises for specific areas of stress, or specific activities.


HOW TO REGISTER
To register for this course, simply contact the studio and provide your deposit,
along with a letter telling us who you are and why you are interested in taking this course.


WHO SHOULD TAKE THIS COURSE
This course is appropriate for experienced Pilates students, for Yoga Teachers or Personal trainers, and for anyone who is interested not necessarily in teaching, but in deepening their understanding of the body ,and how pilates can make it better.